Trufi's Tour-de-Force of Multimodal Possibilities
A smorgasbord of what Trufi can do, stadnavi combines more transport modes and services than any app we've made to date: car, carpool, taxi, bus, train, bike share, cargo bike, personal bike, public toilets… it's in there.
stadtnavi, which means "city navigation," is an intermodal mobility platform for Herrenberg, Germany, funded by the German Federal Ministry of Transport and Digital Infrastructure, to improve air quality in German cities.
Like no other app, stadtnavi interfaces to OpenStreetMap, OpenTripPlanner, and other open APIs to find routes with a single mode, or multiple modes.
For example: Walk to the train station, get on the S-Bahn, and finish the last kilometer with a bike share.
stadtnavi Features
Complete door-to-door navigation – by any mode available: active transport, or motorized transport
Finds the fastest and most environmentally-friendly route
Localized in German and English
Save favorite searches
Uses GPS to show the user's position on the map
Shows the positions of buses on the map
Choose the best plan for your needs from several itineraries
A fully-featured web app – if you don't want to install the smartphone app
Features for Developing World Cities
The code developed for stadtnavi and other apps created by Trufi Association is open source. As developing world cities begin to offer bike sharing, ride sharing, electric car charging stations, etc., these services can be incorporated into apps made for these cities.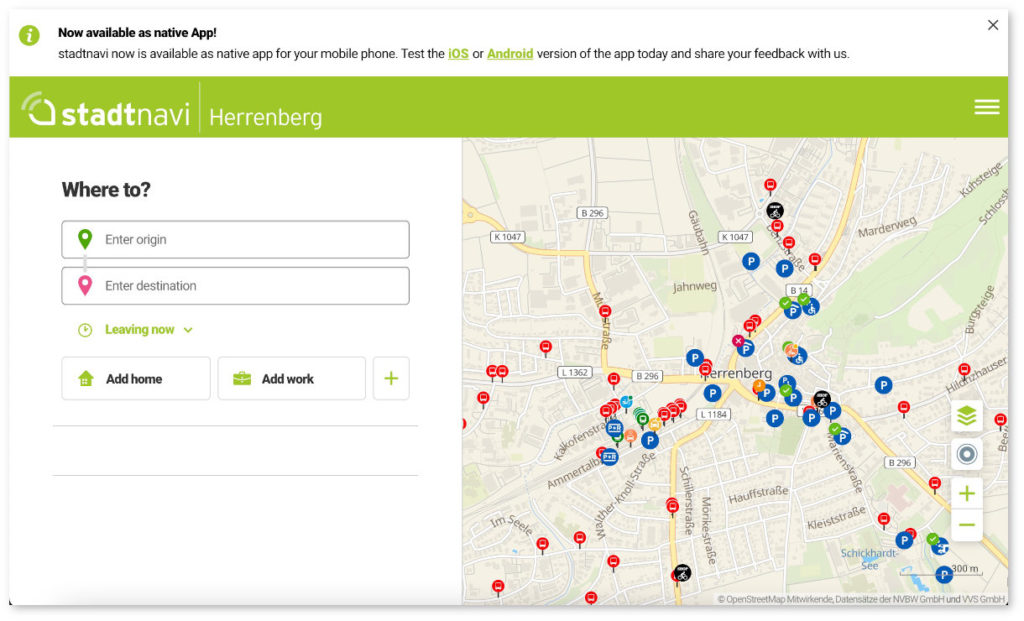 Contact Trufi Association About stadtnavi