We're committed to making sustainable transport more accessible and convenient for everyone.
We develop Mobility-as-a-Service (MaaS) integration services to provide transport users, transport operators, and transport agencies with the best possible transport data and options.
With open data and open standards we ensure maximum compatibility with other apps and services, enabling innovation and nurturing a healthy transport ecosystem.
We can even develop GTFS data for cities that don't have an up-to-date digital transport map.
Data for Your App or an App for Your Data
We can integrate third-party transport data into your applications, or integrate your services into our open source applications. Give people a door-to-door navigation system that finds the fastest and most environmentally-friendly route, using one or more available modes of transport – whether active or motorized. We support multiple languages, and users can save their favorite searches and locations for even faster results.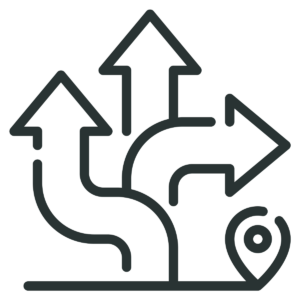 Potential MaaS Integrations
Multimodal Transport allows people to combine cycling, buses, trains, and other modes of transportation, making life easier, transport safe, and with flexibility to do what they need to do while saving money and reducing their carbon footprint.
Public Transport Network
Cashless Payments
Bike Share
Cargo Bike Rental
Ride Share/Ride Hailing
Car-Sharing Services
Electric Vehicle Charging Stations
Parking information
Electric Scooters
Carpool Matching
Incident Reporting
Safe House Locator
Contact Trufi About MaaS Integrations