A new fork of the Trufi App will let bike riders blend cycling journeys with public transport. Trufi Association volunteers developed the new version during the fourth ITS MOIN Hackathon, which is focused this time around on urban mobility and logistics.
The new app was a winner of the hackathon.
What makes this app different from other biking apps is that it helps you to plan an efficient multimodal journey on bike and public transit – where part of the journey is cycling, and other parts you are carrying your bike on buses, trains, trolleys, ferries etc. that allow bikes onboard.
Biking directions are readily available on some mapping services. Public transport directions are available on many mapping services. But there is currently no app or service that will seam together an entire journey for a cyclist.
Not Without My Bike
The app, called "Not Without My Bike" uses open data from OpenStreetMap – which which has schedule and route data on buses, ferries, trains, trolleys, but also whether and when these public transport services allow bikes.
The existing dataset has the all of the necessary data fields, but they've never been leveraged in this way before. The test dataset was for Hamburg, Germany – where the Trufi Association is headquartered. Even the testing yielded surprises – such as a bike-friendly ferry that some of the Hamburg-based volunteers did not know about. This revelation cut off several kilometers from the bike-only route suggested by Google Cycling Directions.
Wow things like this can make a shift in my mental map of Hamburg

Hauke, a Trufi volunteer
The app will have features that no other app has:
Overviews of peak times, when subways are full, etc.
Information on itineraries that combine cycling and public transport
Hidden transport possibilities that even veteran city cyclists haven't yet discovered
Google Directions can't do this. The app from HOCHBAHN, the Hamburg transit authority can't do this. The Trufi Bike App can.
Beyond Hamburg
"Not Without My Bike" has potential wherever there is an OpenStreetMap dataset for public transportation. In other words: just about any city in the world. And because the data is contributed to by a community of users, information can be added and validated even in cities where the municipal transit authority does not maintain complete or accurate records on the bike-friendliness of buses.
In developing countries, where informal transit is widely used, "Not Without My Bike" will help commuters make the most of their bicycles, while providing transit authorities with valuable data.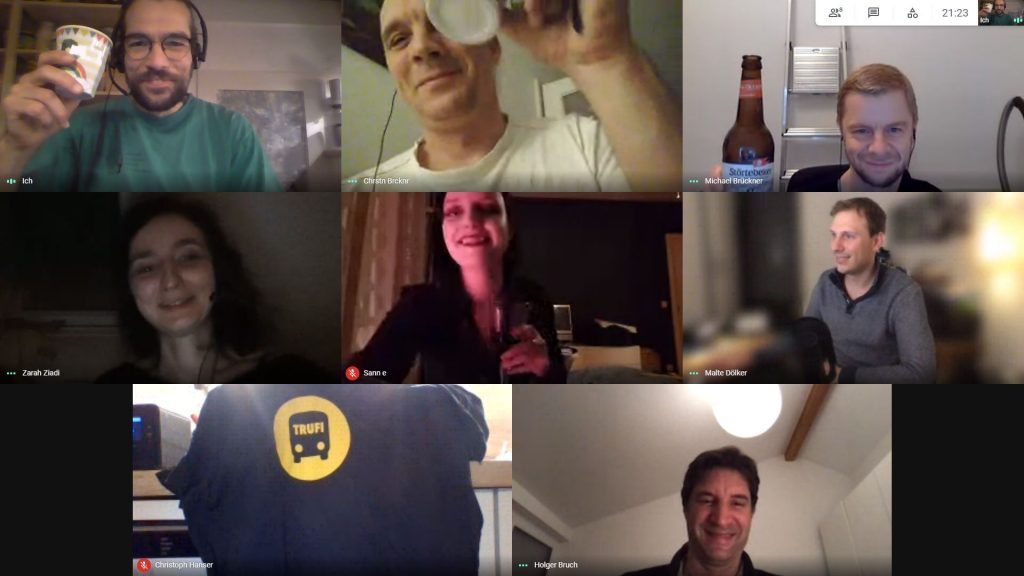 HOCHBAHN was impressed enough with the results from the hackathon that they expressed interest in working with Trufi to develop the Trufi "Not Without My Bike" App for its full potential for commuters in Hamburg.
For more information, or to get involved Contact Trufi.