This month group of Colombian young OpenStreetMappers who call themselves the Duitama Mapping Stars hosted Taylor Reich, a researcher from the Institute for Transportation & Development Policy (ITDP).
Reich, an expert in sustainable mobility and decarbonizing urban passenger transport, visited Duitama to see first hand how these students at Salesiano School consistently deliver high-quality public transport data consumed by mapping applications and projects.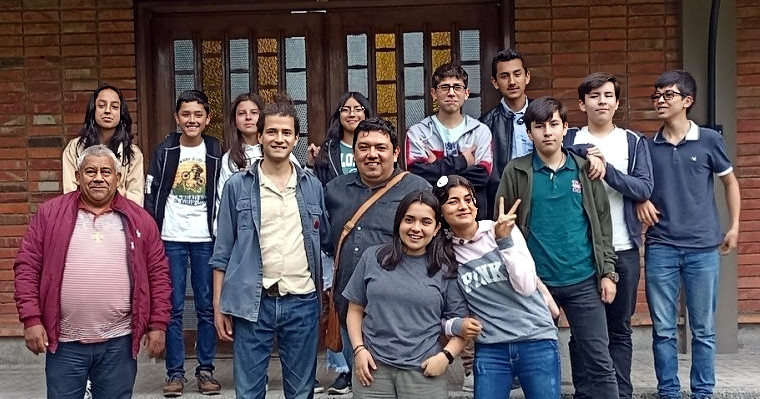 Through successive cohorts for the last 10 years, students overseen by Leonardo Gutierrez, have contributed to mapping projects in many cities. Their first project was to map their hometown of Duitama, which resulted in the data used by the BusBoy app.
Because of the efficiency and quality of their work, Trufi has tapped these students for mapping projects in cities including Bogota, Colombia; Zitácuaro, Mexico; Oruro, Bolivia; and Nairobi, Kenya.
Transport Data and Sustainable Development Goals
Trufi Association uses OSM as a foundation to generate General Transit Feed Specification (GTFS) data – an open standard for public transportation schedules and geographic information.
Reich made the link between the quality GTFS data and United Nations' Sustainable Development Goals (SDGs).
"The Salesiano students are literally making it possible for the world to achieve the SDGs. Without being able to track our progress on the SDGs, we'll never know how close we are to them," Reich said. Specifically SDG 11.2: To provide access to safe, affordable, accessible and sustainable transport systems for all.
The UN has never been able to actually measure that, because the data hasn't existed, Reich said. "The Salesiano students are creating the data. ITDP is using their data, along with other sources to do the first global measurement of SDG 11.2."
"A powerful kind of South-South exchange"
The visit provided an opportunity for the Duitama Mapping Stars to showcase their work. "They're very proud of their skills," Reich said.
Each student had a chance to discuss and illustrate their work in creating OpenStreetMap data contributing to GTFS. This emphasized their individual and collective contributions, as well as their commitment to urban mapping and transportation development, making cities more accessible and sustainable.
"It's really exciting how Duitama Mapping Stars can collaborate with local groups in other cities, like Oruro, Bolivia," Reich said. "Volunteers in Oruro ride buses and generate the GPS traces, which the Duitama Mapping Stars painstakingly convert to OSM and GTFS data. This kind of collaboration between volunteers in different cities is an exciting new direction for transportation data. It's a powerful kind of South-South exchange."
Read More About Reich's Visit to Salesiano School on the BusBoy Website >>
Contact Trufi About Sustainable Transport Data