Trufi Association specializes in open source and open data custom applications for sustainable transportation and informal transport.
Our solutions are designed to help you achieve your goals in a cost-effective and efficient manner. With our expertise and experience, we develop and customize mobile applications tailored to your specific needs.
Adapted to Your Needs
The transportation landscape in the industrialized world and in the global South is evolving rapidly. Transport agencies and businesses need to be able to adapt quickly – or catch up, as the case may be. That's why our solutions are built on a stable and flexible code base that can be easily customized to meet the evolving needs of your business.
With Trufi Association solutions, you can focus on the needs of your city, your business, your constituents, your customers. We take care of the technical aspects of mobile application development and customization. Our experts will work closely with you to understand your needs and develop a solution that is tailored to your specific requirements.
White Label Applications
A Trufi Association white label app allows businesses, transport agencies, or research projects to have their own customized and branded app, with personalized features and data analytics.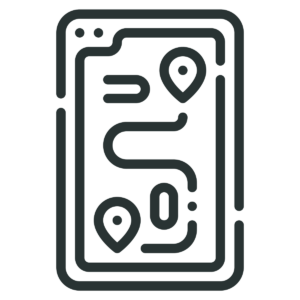 Some Trufi Apps:
Hosting for Apps & Back-End Services
We offer hosting solutions for applications and back-end services. Our hosting services ensure that your apps and services are secure, reliable, and scalable. We can host your app on Android and Apple app stores, and provide ongoing support to ensure that your app is up-to-date and meets the evolving needs of your users.
Custom App Possibilities
Informal Transport: Trufi apps for informal transport provide journey planning for users in cities where transport operators are decentralized.
Multimodality: A comprehensive platform for buses, trains, ferries, taxis, trams, walking, cycling, bike share, ride sharing, and any other mobility service, integrating real-time data and user feedback.
Accessibility: Features such as audio announcements, visual aids, route optimization, out-of-service elevator information, to support people with limited mobility.
Gender Inclusivity: Addresses gender-based differences in public transportation usage, promoting safe and respectful mobility for all.
Apps for Transport Operators: Manage fleets, routes, and services more efficiently, reducing costs and enhancing customer satisfaction. Implement real-time location tracking, booking, and cashless payment.
Business Sustainability Initiatives: Implement sustainable mobility solutions, such as carpooling, bike-sharing, and electric vehicles, reducing carbon emissions and enhancing corporate social responsibility.
Decarbonizing Transport: Supports low-carbon transport modes and policies, such as public transit, cycling, and pedestrianization, to mitigate climate change and air pollution.
Custom Chatbots: Experience seamless travel interaction and real-time incident reporting. Empower users, gather data, and facilitate research. See our Chatbots page for more information.
Contact Trufi About Custom Applications